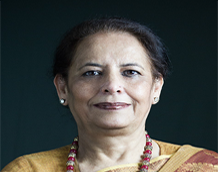 Asha Narang
Chairperson
Asha Narang has been the driving force behind the growth and expansion of the company. She has been actively involved in the business since 1972 and is one of the first women entrepreneurs in India's male-dominated steel industry. More than 40 years of experience in the industry has given her an incisive understanding of the operations of the company as well as great insight into the larger trends of the industry. She took over the reins of the company while her late husband and founder Satya Pal Narang was ailing. Asha Narang is a firm believer in collaborative leadership. The expansion phase of the company with a new plant in Chakan, Pune and an upcoming plant in Chennai has been made possible with the active participation of experienced professionals Sanjeev Verma and Vipin Verma, along with her son Sandeep Narang. Her vision is to seek greater growth to emerge as industry leaders in bright bar steel in India, as well as to diversify in partnership with small and medium auto-component manufacturing companies.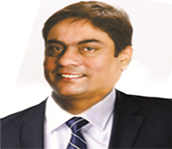 Sudipta Roy
Chief Financial Officer
SUDIPTA has 30 years of experience in Finance and Accounts, Administration, Projects and ERP Systems implementations and all Corporate Support functions at progressively senior levels. He executed strategic market entry plans of two premier global companies, Tetra Pak and KPMG and helped set up and establish their India operations during 15 of the 30 working years. Sudipta's rich working experience includes Senior Director Finance & Operations, Cognilytics Software & Consulting P L, Senior Vice President & Chief Operating Officer, Career Launcher Ltd, Senior General Manager, Mawana Sugars Ltd [Siddharth Shriram Group] amongst others.
During his career, he has addressed challenges of changing skills & capabilities required by organizations to grow and succeed by rationalizing business lines, identifying growth opportunities and setting up an operations backbone to support rapid scaling up. Negotiated relationships and influenced senior management with requisite skills for consequence management and ability to don different roles with ease and flexibility. Effectively handled Investor Relations with market analysts and research companies. Has provided leadership and teamwork in organizations with a track record of challenging their senior executives with growth and profit responsibility.
Sudipta did his Bachelor of Commerce (Honours), Calcutta University from St. Xavier's College, Calcutta and is professionally trained in Negotiation Skills Workshop(s) by Scotwork, Singapore & UK.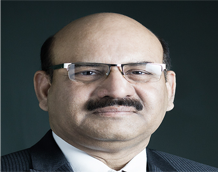 Sandeep Kapoor
General Manager, Quality Systems
Sandeep Kapoor has over 25 years of rich experience in plant operations, production planning, process improvement, project management and vendor development with well-known organisations.
In the past, Sandeep has worked with industries in different parts of north India, comprising the likes of Escorts Ltd in Faridabad, Pronto Steerings Ltd in Parwanoo (Himachal Pradesh) and Rajshi Steering Pvt Ltd in Faridabad. Prior to joining the Omega Bright Steel team as General Manager, Sandeep was with Victora Auto Parts Pvt Ltd as Plant Manager.